School choice is any policy that allows families to utilize their children's education dollars to the approved education provider of their choosing – be it traditional public schools, public charter schools, private school, virtual learning, or home schooling.
Why is school choice important?
Every child is unique. Education should uniquely fit your child. It's important that state education funds pay for exactly what every child needs.
Maybe you have a child or know a family who needs better education options. You can help by sharing the many educational options with your family, community or network. Request a school choice booth at your next event, request scholarship information or partner with us to host an event near you.
Are you a K-12 parent, student, educator, faith leader, business owner, or community leader? Email us at [email protected], call us at (623) 254-4717 or text NEWS to 73218 to find out how your child or a child in your community can benefit from school choice options.
Arizona School Choice Education Programs
By choosing to opt out of the public-school system, this program allows you to seek an array of alternative educational services from private school to home-based education and control your child's educational needs.
A Tax Credit Scholarship Program gives parents the ability to have educational choices for their children, regardless of income. A tax credit is money that a taxpayer would otherwise have to pay as a state income tax payment, therefore, it is not additional money out of their pocket.
Private school" is defined as "a nonpublic institution, other than the child's home, where academic instruction is provided for at least the same number of days and hours each year as a public school." Ariz. Rev. Stat. Ann. §15-802F.2. "Nothing in this title shall be construed to provide the state board of education or the governing boards of school districts control or supervision over private schools." Ariz. Rev. Stat. Ann. §15-161.
Charter schools are independently run public schools exempt from many rules and regulations in exchange for increased accountability.
It's the process of parents educating children in the home. Families in Arizona may choose to collaborate via tutorials, co-operatives, and extracurricular groups to enhance the home education experience.
Hybrid Learning," also referred to as "Blended Learning," or "Ascynchronous Learning" combines traditional face-to-face classroom instruction with online learning.
Magnet public schools allow kids to narrow in on a specific learning track, such as health sciences or the performing arts.
Micro-schools (Prenda), pods, pandemic pods, and learning pods all refer to the same concept: students gathering together in a small group – with adult supervision – to learn, explore, and socialize.
Whether due to health concerns, flexibility or other reasons, many parents are seek for a remote or virtual learning option.
Open enrollment allows families to attend any public school regardless of where they live.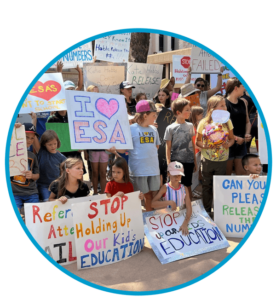 THE BENEFITS OF SCHOOL CHOICE.
STATE PROGRAMS AT A GLANCE
10
States with Educational Savings Account Programs
21
States with Scholarship Tax Credit Programs
12

States + D.C. and Puerto Rico with Voucher Programs
14
States with Special Needs Scholarship Programs